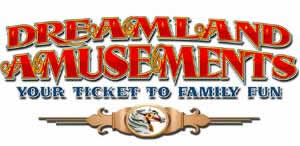 Dreamland Amusements will once again be providing all the exciting amusement rides, fun family game and delicious fair foods for the Delaware County Fair! There will be rides for riders of all ages including kiddy rides for the little ones, family rides which everyone can enjoy, and spectacular thrill rides for thrill seekers!
Midway House of Operation
MIDWAY WILL NOT BE OPEN ON MONDAY 8/15
8/16 Tuesday.....12pm-11pm
8/17 Wednesday...12pm-11pm
8/18 Thursday....12pm-11pm
8/19 Friday......12pm-11pm
8/20 Saturday....12pm-11pm
Armband Ride Special Information
Tuesday to Thursday $25
Friday to Saturday $30
Pre-Online sales $20 Armbands
or 4 Armbands for $75..

CLICK HERE
Ride Ticket Pricing
Single ticket $1.50
20 tickets $30
50 tickets (includes 1 🎟 free ride) $609